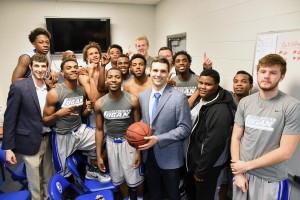 CARTERVILLE – Jalen Perry scored a game-high 21 points to lead John A. Logan to a 86-80 win over Lewis & Clark.  It was the fifth straight win for the Vols and the 100th career win for coach Kyle Smithpeters.
Logan, 11-4,  led the entire game; the Trailblazers pulled within six points late but could never get closer.  Chad Culbreath added 18 points while Allen Billinger and Will Robinson each had 11.  Jerome  Davis had 8 points and a game-high 10 rebounds.
Lewis & Clark, 5-8, was led by Will Sides with 19 points while Cheick Kone had 17 and Can Oztamuar had 16.
"We didn't play one of our better games but we did what we needed to do to win and that's what counts," Smithpeters said.  "It is good to reach the 100 win milestone in just over four years."  He is 100-42 in his fifth year at John A. Logan.
The John A. Logan Volunteers host the Southeastern Illinois Falcons on Saturday.  Tip off is scheduled for 3:00 P.M.
-Originally reported by John A. Logan College