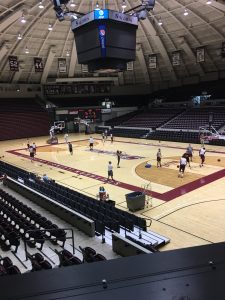 CARBONDALE, Ill. — Saluki men's basketball coach Barry Hinson unveiled the 2017-18 men's basketball non-conference schedule on Friday morning — a 13-game slate that features seven home games — plus a return trip to basketball powerhouse Louisville.
"I think it's a good schedule for us," Hinson said. "I think it's a great balance. We've got a Power Five team on there, we've got NCAA berth teams on there, we have teams that are going to be much improved from where they were last year."
The home schedule opens on Nov. 18 against Division II Illinois-Springfield and continues with SIUE (Nov. 29), San Jose State (Dec. 2), SEMO (Dec. 9), Jackson State (Dec. 13), Lamar (Dec. 17) and North Carolina A&T (Dec. 19). SIU will play one exhibition game on Nov. 4when it hosts Rockhurst.
The four-game road slate starts on Nov. 10 at Winthrop — a team that won 26 games last year and advanced to the NCAA Tournament as the Big South champion. On Nov. 21, the Salukis will return to Louisville to play a Cardinals team that is expected to be ranked in the top 15 nationally. Louisville beat Southern, 74-51, last year in the first meeting between the programs in 40 years. The remaining two road games are at Murray State (Nov. 25) and Saint Louis (Dec. 6) — two teams that the Salukis beat at home last season.
SIU will wrap up its non-conference schedule with two games at Orleans Arena in Las Vegas as part of a Multi-Team Event on Dec. 22-23. The pairings have not been set, but the Salukis will face two teams from the pool of Duquesne, Nevada and San Francisco.
"I think (this schedule) is a great challenge for our guys and I think it's a great prep for us going into conference," Hinson said.
Saluki men's basketball season tickets went on-sale today at SIUSalukis.com with prices starting at $125.
---
This story originally from Thomas R. Weber, Associate AD/Communications of Saluki Athletics