This week, 103.5 ESPN has been crossing the area to get to their Team of the Week schools.  So far, the Week 1 and Week 2 winners of the season, the Harrisburg Bulldogs and SVWW Red Devils, have been presented their t-shirts and plaques.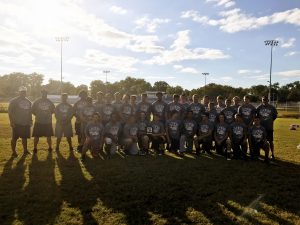 The Harrisburg Bulldogs started the season, and the Gabe Angelly era, with a 17-14 victory over Mt. Carmel.  The Bulldogs were led by Hunter Smith that game, who had 130 all-purpose yards and scored the touchdown that put things too far out of reach for Mt. Carmel to mount a comeback in the 4th quarter.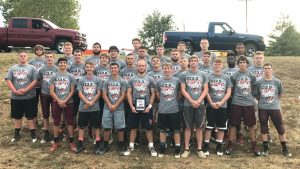 The SVWW Red Devils rolled over Edwards County in week 2 in a 34-7 contest.  The REd Devils controlled the ball all game long with a consistent running game, rushing the ball 33 times.  Eli Gunter led the Red Devils with 127 yards on six carries, including an 85-yard touchdown run to start the second half; Peyton Rock had 75 yards on eight carries and Jayon Malone added in another 44 yards on six carries.
Congratulations to both Harrisburg and SVWW!  Be sure to check back for more Team of the Week updates and  be sure to listen in to Sportsvoice with Murph and Scott Hudson this Saturday when they announce the Week 7 winners!