Thursday the West Frankfort Redbirds (4-2) received their 103.5 ESPN-CIL-FM Team of the Week award.  The Redbirds were selected as the Team of the Week in Week 4 of the high school football season with a 37-21 victory over another of 2017's Team of the Week Club, the Harrisburg Bulldogs.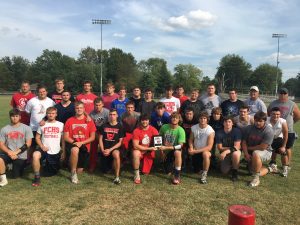 The traveling Redbirds were led by sophomore QB Connor Eaton who ran for an astounding 162 yards and two touchdowns.  Madison Allen added in another 125 rushing yards with two touchdowns as the Redbird offense stacked up nearly 400 yards in total offense.
This week, the Redbirds will be looking to play the role of road warriors yet again as they head towards a determined Herrin (5-1) team.  It's also Herrin's homecoming.  That game will be broadcast on 103.5 ESPN beginning at 6:40 Friday night.
Be sure to tune into Sportsvoice with Murph, Scott Hudson, and DH every Saturday morning from 8 until 10 when the guys select this week's Team of the Week!