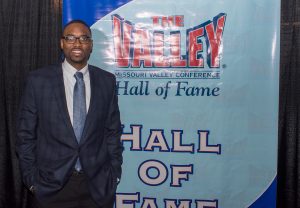 ST. LOUIS, Mo. — Southern Illinois men's basketball legend Darren Brooks was formally inducted into the Missouri Valley Conference Hall of Fame on Friday morning during a ceremony at the Peabody Opera House.

A native of St. Louis, Brooks is the only player in Valley history to win both the Larry Bird Trophy, awarded to the league's top men's basketball student-athlete, and the league's Defensive Player of the Year honor two times, sweeping the awards in 2004 and 2005.
"My parents dropped me off at SIU when I was 17 years old," he recalled. "I was a little nervous, I didn't know what the future would hold for me, but the fans and the Carbondale community really embraced me and showed me a lot of love, and I really appreciate that."
While he was at Southern Illinois (2001-05), the Salukis won four-straight regular-season Conference titles, made four-straight NCAA Tournament appearances and won three NCAA Tournament games, including a Sweet 16 run in 2002 (defeating Texas Tech and Georgia as an 11 seed).
"I remember after we played Georgia in the NCAA Tournament, we got to the airport in Marion and we see all these people," Brooks remembered. "We go inside and see almost the whole town of Carbondale there at 1 in the morning, celebrating with us, high-fiving, taking pictures, that newspaper print 'Sweet 16.' It was incredible. The fans were always there for us and for me."
Brooks finished his career ranked fifth in all-time scoring at SIU with 1,761 points; he remains the school's career steals leader with 258, and he ranks fourth in career assists with 410, eighth in career 3-pointers made with 156 and 12th in career rebounds with 673.
He was a two-time AP Honorable Mention All-American (2004, 2005), a three-time member of MVC All-Defense team (2003-05) and a two-time member of MVC All-Tournament team (2004, 2005).
Brooks is a member of both the SIU All-Century Team, announced in 2013, and the Missouri Valley Conference All-Centennial Team, announced in 2007.   He is a member, too, of the Saluki Hall of Fame.
He currently is an athletics director and K-12 teacher in the Dallas area where he lives with his wife Danielle and daughters Darionne, Nevaeh, Niah and Nadiah.  In addition to his duties as athletics director, Brooks coaches the boys and girls basketball teams, and he also operates the Brooks Basketball Academy.
This story originally published by Tom Weber on SIUSalukis.com.