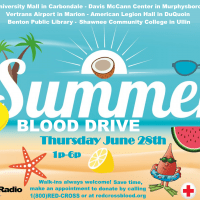 River Radio Summer 2018 Blood Drive
Date and Time: Thursday, June 28, 2018 from 1 pm to 6 pm
Locations:  University Mall in Carbondale
Davis McCann Center in Murphysboro
Veterans Airport in Marion
American Legion Hall in Du Quoin
Benton Public Library in Benton
Shawnee Community College in Ullin
Goal: 130 pints of blood (1 person donates 1 pint of blood)
Incentive: St. Louis Cardinals Baseball t-shirt for all presenting donors
The Red Cross currently has a critical need for blood donations.
The summer months can be an incredibly difficult time of year for the Red Cross to maintain an adequate blood supply.
With many regular donors taking vacations and high schools and colleges out for summer, blood donations tend to decline in the summer.
Twenty percent (20%) of the nation's blood supply comes from high school and college aged donors, and when school is out for summer, the Red Cross tends to see a decline in donations from that age group.
The Red Cross must collect about 14,000 donations every day for patients in need at hospitals across the country.
Every two seconds someone in the country needs a blood transfusion.
The entire donation process takes approximately 45 minutes to an hour, and includes a mini health history, the donation process which only takes about 5 to 10 minutes, and a stop at the refreshment table for about 15 minutes after donating.
Any healthy individual age 16 and older can donate blood in the state of Illinois – 16 year olds must have a parental consent form signed, which are available at the blood drives.
Blood products, including red cells, platelets and plasma, are used to help cancer patients, accident victims, new born babies, heart surgery patients, and burn victims.
One in 10 patients entering the hospital will need a blood transfusion.