Monday nights at 6, join Mike Murphy and Paxton Guy for one solid hour of Saluki sports talk.
We'll talk with coaches and players, play back highlights, and preview future games. We'll get your feedback as well. You can contact the show on Twitter @1035espn or send us a text on the El Greco Text Line at 618-985-5705.
River Radio is BACK in the Dawghouse, and we've got a lot to bark about!
Previously on the show...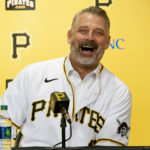 Former Saluki and current Pittsburgh Pirates skipper Derek Shelton joined Golic & Wingo Wednesday morning.  Listen to what he has to say during the...
Read More
LISTEN: Former Saluki, Current Pittsburgh Pir...
In the Dawghouse