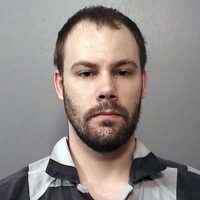 PEORIA, Ill. (AP) — A detective is testifying that the former University of Illinois doctoral student charged in the slaying of a visiting Chinese scholar began to tremble and break out in what appeared to be hives when he was confronted with inconsistencies in his version of events.
University of Illinois Police Detective Eric Stiverson testified Monday that Brendt Christensen's demeanor and appearance changed dramatically during questioning in June 2017 when he changed details about how he played video games the day Yingying Zhang disappeared days before.
FBI Agent Brian Schenkelberg also testified, saying that the investigation also raised questions. He said that Christensen told him that his finger began to bleed a little when he nicked it cleaning his car but the FBI never found blood inside the vehicle.
The detective and agent testified after an FBI forensic examiner told the jury about how in the weeks before Zhang's disappearance, Christensen went on his computer to research serial killers, decomposing bodies as well as download photographs of bound and gagged women.
Christensen is charged with first-degree murder. Zhang's body has never been recovered but on tapes the jury has heard, Christensen admits that he killed the woman, decapitated her and that her body would never be found. In the first day of the trial, his attorneys acknowledged that he killed Zhang.