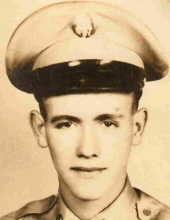 FRANKLIN COUNTY, Ill. (WJPF) — A Sesser soldier who was reported Missing in Action in 1950 during the Korean War has finally been accounted for.
Army Corporal William Brown was 18-years-old when he was killed in action in the vicinity of the Chosin Reservoir in North Korea. At that time, his remains could not be recovered.
In July 2018, following a meeting between President Donald Trump and North Korean Leader Kim Jong-un, North Korea agreed to turned over 55 boxes, said to contain remains of American service members killed during the Korean War.
On October 17, 2019, using DNA technology, Corporal William Brown was identified.
Graveside services, with full military honors, will be Friday, April 3, 2020 at Mound National Cemetery.