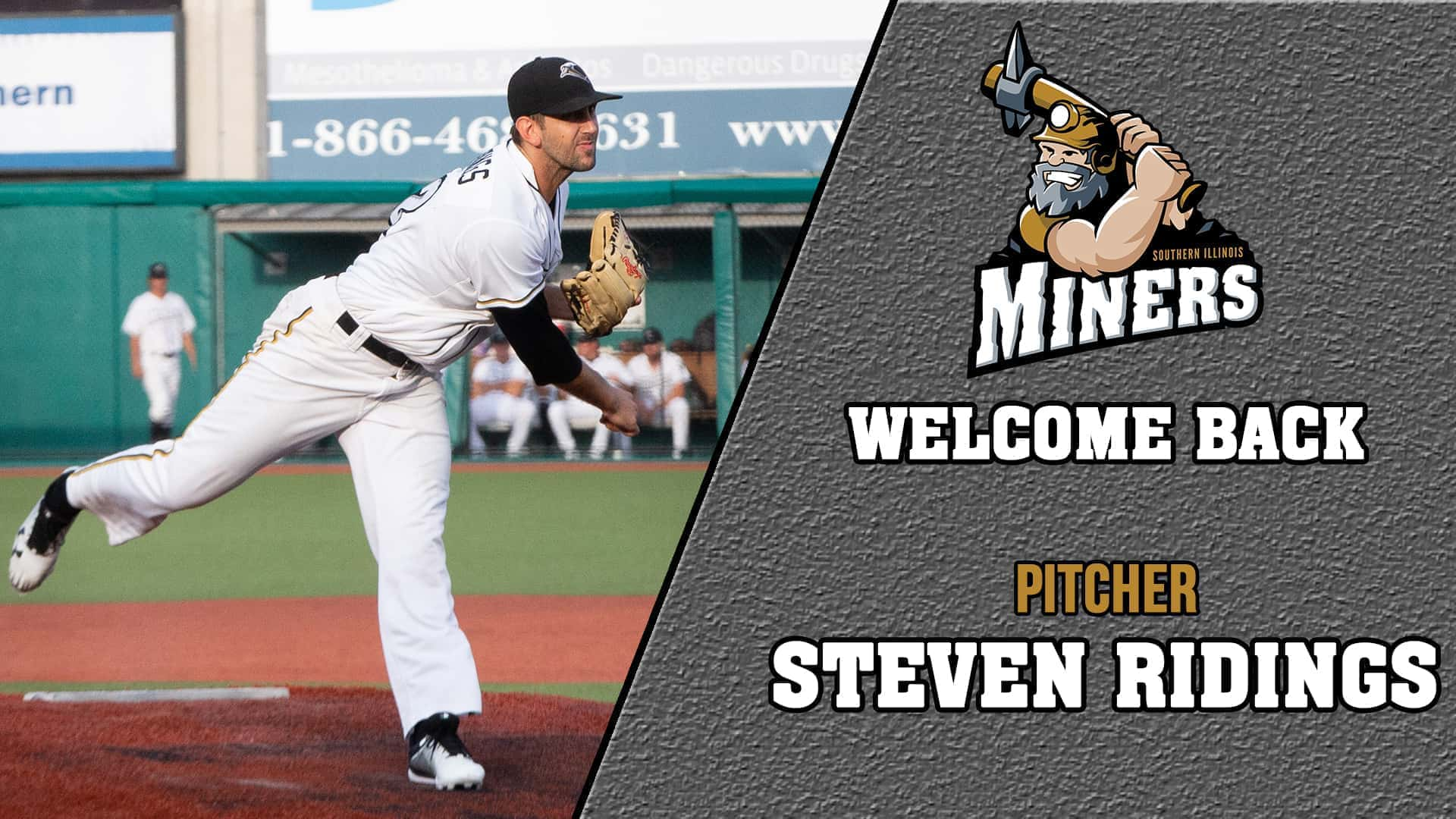 Right-handed starter inks new deal with Southern Illinois
Marion, IL (January 30, 2020) – The Southern Illinois Miners announce that starting pitcher Steven Ridings has re-signed with the team, adding to their pitching staff for the 2020 campaign
Though he was limited due to an arm injury in 2019, when the Harwood, Maryland native took the mound for the Miners, he dominated the competition. In six starts, Ridings posted a 1.86 ERA in 29 innings, striking out 24 and walking just six while also allowing only 17 total hits last season, his first full year with Southern Illinois.
The right-hander was originally acquired in a trade from the Schaumburg Boomers in 2018, and between the Boomers and Miners, he went 9-7 with a 3.92 ERA in 21 games (20 starts), striking out 115 and walking only 36 in 124 innings. He was the Boomers' opening day starter that season, and his 115 strikeouts ranked second in the Frontier League behind only Windy City's Zac Westcott, who coincidentally has also signed with Southern Illinois for the upcoming campaign. His nine total victories also placed him inside the league's top-five that year.
"I am grateful to be coming back to Southern Illinois again for another season, and I appreciate all the effort Mike (Pinto) has put in to make me want to be here," Ridings said. "I hope that we can take that next step to win a championship."
Prior to his time in the Frontier League, the 25-year old was a 29th-round draft selection by the Seattle Mariners in 2016, pitching two years in their system after a successful collegiate career at Division-III Messiah College in Pennsylvania.
"We are very happy to have Steven back," Miners manager Mike Pinto said. "He has worked hard to recover from his injury this offseason, and we have certainly seen that he has the capability to be among the best starting pitchers in the league. His return could make a big impact for us this year."
This press release first featured on southernillinoisminers.com