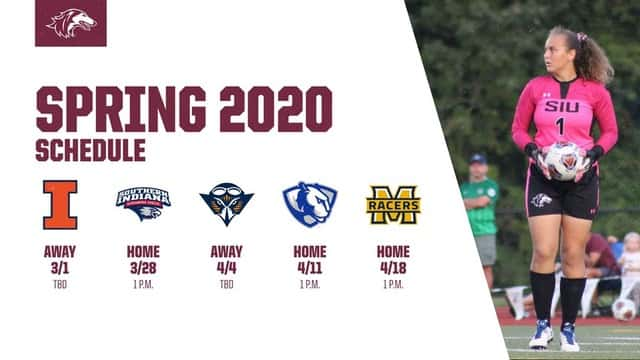 Photo from siusalukis.com
CARBONDALE, Ill. – The Southern Illinois University women's soccer team will face off against one 2019 opponent as part of its 2020 spring schedule, head coach Grant Williams announced today.
The spring season kicks off on Sunday, Mar. 1 at the University of Illinois with a 7v7 indoor tournament in Champaign, Ill.
From there, Salukis will have a few weeks off from competition before hosting the University of Southern Indiana on Saturday, Mar. 28, with a trip to UT-Martin following on April 4.
Southern returns home on Saturday, April 11 to take on Eastern Illinois University at 1 p.m. in a rematch from last season's 0-0 double overtime tie. The spring finishes up on Saturday, April 18 when the Salukis host Murray State for a match at 1 p.m.
The Salukis will be returning to action after finishing 5-10-2 in its inaugural season. Plenty of players are returning to the second-year program, including Liz Brechtel, who led Southern with six goals last season.
2020 Salukis Spring Schedule
---
Sunday, March 1 – at University of Illinois – TBD*
Saturday, March 28 – vs. University of Southern Indiana – 1 p.m. (Lew Hartzog T&F Complex)
Saturday, April 4 – at University of Tennessee-Martin – TBD (Skyhawk Soccer Field)
Saturday, April 11 – vs. Eastern Illinois University – 1 p.m. (Lew Hartzog T&F Complex)
Saturday, April 18 – vs. Murray State – 1 p.m. (Lew Hartzog T&F Complex)
*Denotes 7 vs. 7 style tournament
Press release first featured on siusalukis.com