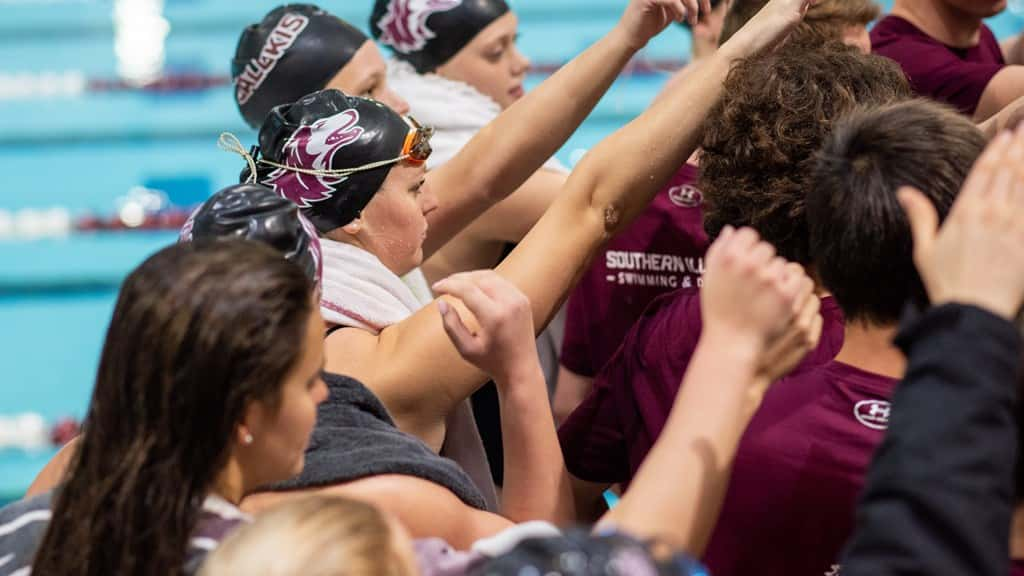 Photo from siusalukis.com
ST. LOUIS — The Southern Illinois women's swimming and diving team was picked to finish second in the Missouri Valley Conference pre-championship poll, the league announced today.
Seven of the eight Valley head coaches selected Missouri State (63) to win the 2020 MVC Championships. The Salukis (51), who have finished runner-up to the Bears the last three years, received one first-place vote and were projected to place second. Indiana State (48) and Northern Iowa (45) were close behind SIU in third and fourth.
The Salukis head into conferences with three-straight MVC dual-meet victories. On the season, SIU is 8-3 overall and 5-1 in the MVC. Southern's only conference loss came against Missouri State (132-111) last November.
SIU tops the Valley in a pair of events, as Baobao Ji ranks first in the one-meter dive and Beibei Ji is first in the three-meter dive. Five Saluki swimmers hold top-three times. Lucia Romero ranks second in the 100-yard backstroke and third in the 50-yard freestyle. Sierra Forbord (100-yard freestyle) and Rita Naude (100-yard butterfly) rank second in one event. Sarah Vogt (100-yard breaststroke) and Samantha Parsons (200-yard breaststroke) possess third-fastest MVC marks.
SIU returns eight individuals that earned All-MVC honors last season. Seniors Laura Carver, Payton Parman, Parsons, Beibei and Baobao have been All-MVC selections two or more times.
This will mark head coach Geoff Hanson's first time coaching Southern at conferences, as he took over for 32-year coaching veteran Rick Walker, who retired at the conclusion of the 2018-19 season. Last year, Hanson coached the Colorado Mesa women's team to its first conference title in school history.
The MVC Championships will be hosted by Missouri State from Feb. 19-22 at the Mizzou Aquatic Center in Columbia, Mo.
FULL RESULTS
---
Missouri State (7) – 63
Southern Illinois (1) – 51
Indiana State – 48
UNI – 45
Illinois State – 33
Little Rock – 20
Evansville – 18
Valparaiso – 10
This press release first featured on siusalukis.com