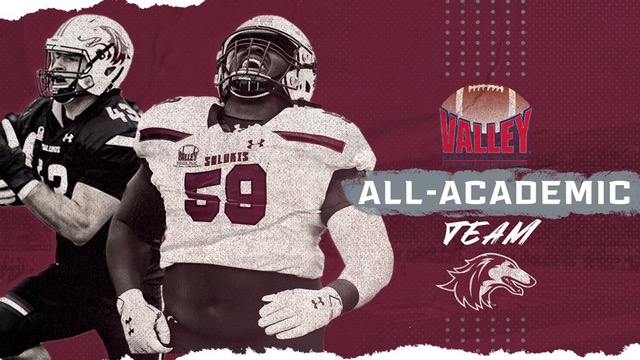 Two Salukis were named named to the Missouri Valley Football Conference All-Academic team on Wednesday. Offensive lineman ZeVeyon Furcron (4.00 GPA/Sport Studies) and fullback Jacob Garrett (3.986 GPA/Marketing) were named to the first team, while quarterbacks Nic Baker (3.723 GPA/Finance) and Stone Labanowitz (3.397 GPA/Radio) were honorable mentions.
A two-time Missouri Valley Offensive Lineman of the Week and First-Team All-MVFC selectee, Furcron carries a perfect 4.00 GPA as a student in Southern Illinois' Master of Science in Education program. The fifth-year senior has started 40 games over his career, including 33-consecutive games at left guard.
Garrett was named to the league's All-Academic team for the second time in his career. The third-year fullback is the lead blocker for a Southern Illinois program that owns the third-best passing offense and fourth-best rushing attack in the MVFC this season. Garrett has played in all nine games, starting eight, and has recorded four catches for 82 yards and a touchdown.
Baker played in four games, starting three, and compiled 637 passing yards and three touchdowns on 50-of-74 passing. Baker led SIU to an upset over No. 1 North Dakota State on Feb. 27 by throwing for 254 yards and a touchdown on 17-of-23 passing.
Labanowitz has played in six games, starting four, and has passed for 994 yards and seven touchdowns on 85-of-116 passing. The third-year signal caller closed out the regular season with a signature win over No. 15 Southeastern Louisiana, a game in which he passed for a career-high 328 yards on 20-of-24 passing.