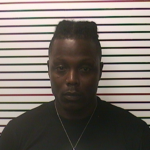 CARBONDALE, Ill. (WJPF) — A Carbondale man has been arrested on gun charges.
Carbondale Police say at about 11:40 p.m. Saturday, they were called to the 100 block of North Washington Street for a disturbance. Responding officers then heard several shots coming from the area. A parked vehicle was damaged by a bullet, but no injuries were reported.
Charelton Patterson, 29, was arrested on charges of aggravated discharge of a firearm and unlawful use of a weapon by a felon. He was taken to the Jackson County Jail.