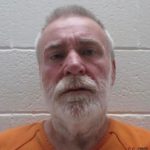 GRAYVILLE, Ill. (WJPF) — Charges have been filed in an Edwards County murder.
Steven Schmittler, 56, of Grayville faces three counts of first degree murder, two counts of possession of a firearm by a felon, and one count each of aggravated battery with a firearm and aggravated discharge of a firearm.
The charges come after a body was found early Sunday morning in Grayville. Schmittler was arrested at the scene.
The victim's identity has not been released.