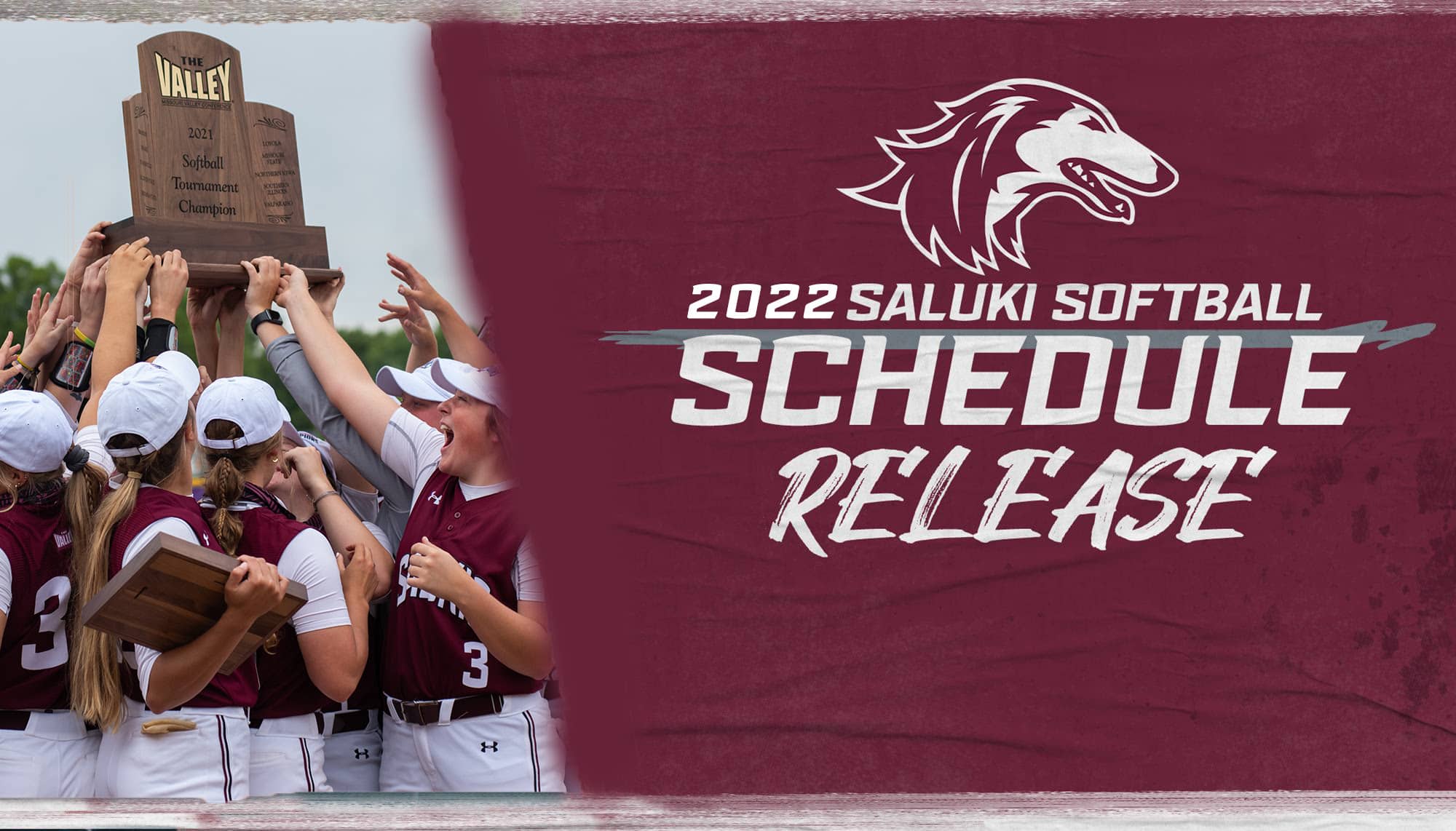 CARBONDALE, Ill. — The defending Missouri Valley Conference champion Southern Illinois Salukis have released their 2022 regular season schedule on Wednesday.
SIU's schedule consists of 11 opponents that finished the previous season in the top-100 of the Rating Percentage Index (RPI), of which seven ranked in the top-75. The group is highlighted by a quintet of 2021 NCAA Tournament teams in Troy, Mississippi State, Eastern Kentucky, Northwestern and UNI. Southern will open the 2022 season with four-straight tournaments that feature opponents that not only finished last season with top-75 RPIs, but also advanced to the NCAA Tournament.
"Every year, I try to find us games that will have RPI significance," head coach Kerri Blaylock said. "Troy has been trying to get us to go down to its tournament for a few years now and Coach Mullins has a great program so we knew that going down to that tournament we would get to at least play the Trojans and then any other teams that are there. With Mississippi State's tournament, Starkville is not only an easy drive for us but it affords us the opportunity to play against a SEC school that is traditionally ranked in the Top-25 nationally. After that we are off to Chattanooga, which is always a good quality mid-major tournament. We close out the first month of the season with our back-to-back home tournaments and are excited about the teams we have coming for those, including Northwestern. All in all, I feel like we have a good, well-rounded schedule."
The Salukis will host 25 games at Charlotte West Stadium while playing on the road 16 times and competing in 13 neutral site contests. Southern will take part in five regular-season tournaments- three away from home and two in Carbondale.
SIU kicks off the 2022 campaign by heading to Troy, Ala. for the Troy Classic from Feb. 11-13. Southern opens its season on Friday, Feb. 11 against the College of Charleston before taking on its first of five 2021 NCAA Tournament teams in Troy that evening. The Salukis and the Trojans, who made their first NCAA Tournament appearance since 1996 after they went 36-15 a year ago, will tangle again on Saturday after SIU's game against Purdue Fort Wayne.
The Salukis will then head back to Starkville, Miss. for the Bulldog Kickoff Classic, hosted by Mississippi State. SIU is slated to take on the Bulldogs, Central Arkansas and Georgia Tech during the three-day event. Southern defeated then No. 24 Mississippi State, 6-5 in eight innings a year ago.
SIU then heads to Chattanooga, Tenn. for the 2022 Frost Classic where it will battle with Northern Illinois, Eastern Kentucky and Butler during the two-day tournament. Eastern Kentucky, who the Salukis will take on twice in Chattanooga, won its first OVC title since 2004 a year ago to advance to the NCAA Tournament.
After opening the season with three-straight weekends in warmer climates, SIU returns to Carbondale to host back-to-back tournaments. First up is the Coach B Classic from March 4-6 followed by the Saluki Invitational from March 11-13. Northwestern, who earned an at-large bid into the NCAA Tournament a year ago after it finished with 30-17 record, highlights the field. The Salukis will also welcome Northern Kentucky, Ball State, Murray State, Northern Illinois, Eastern Illinois and SIUE to Charlotte West Stadium during their two home tournaments.
"If we can play some tough games early in the season, it will set us up better for conference play," Blaylock said. "We played Murray State in the fall and it was a 3-2, extra-inning game and we talked as a team afterwards about how the game had a spring feel to it. And that's what we want. We want games that give us that championship-feel in the preseason so that when we get into the conference schedule and eventually the conference tournament that those games feel as normal as possible."
With the tournament slate concluded, SIU opens the Missouri Valley Conference portion of its schedule with a doubleheader at Missouri State on March 16.  In addition to a 27-game conference schedule, Southern also has mid-weeks scheduled against SEMO (March 23/30), Saint Louis (April 6) and Murray State (April 20). 
"We've been trying to just maintain the type of schedule that we've always played and that gives us a shot at reaching our goals of winning a conference championship and getting back to the NCAA Tournament," Blaylock said. "You don't know how the season will all turn out and obviously we hope to win the conference tournament every year, but we want to try to give ourselves a shot to reach the NCAA Tournament if not."
The Salukis will defend their Missouri Valley Conference tournament title in Springfield, Mo. from May 11-14.