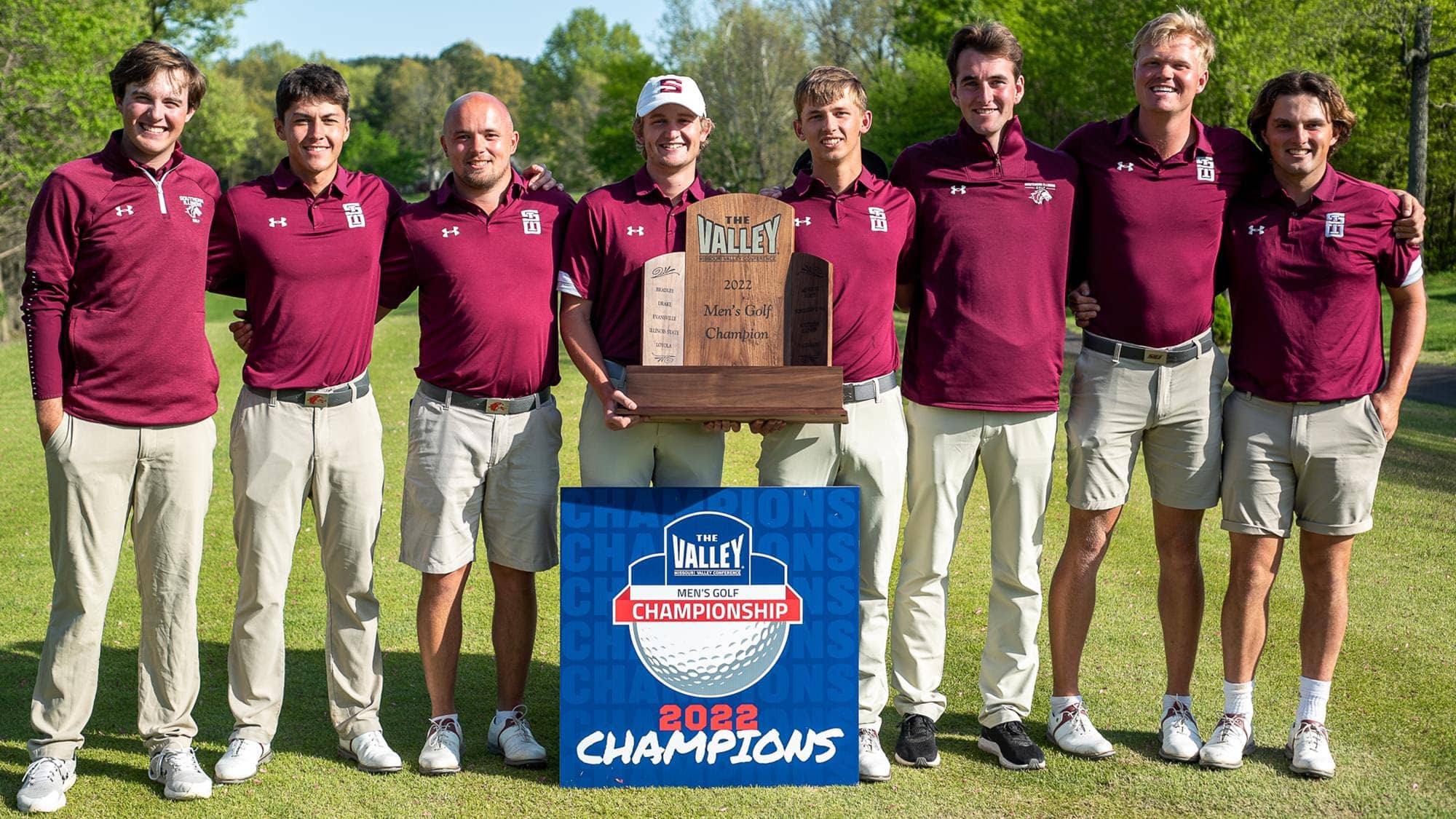 The SIU Salukis men's golf team is ready to build off of the success of last season's MVC Championship when it starts its 2022-23 campaign in less than a month.
The schedule is packed with premier opponents, including several tournaments involving Power 5 conferences.
The Salukis start the season Sept. 4-5 in Harris, Michigan, when they play in the Island Resort Intercollegiate, hosted by the Jackrabbits of South Dakota State University.
On Sept. 12-13, SIU heads to Manhattan, Kansas, for the Kansas State Wildcat Invitational. The Salukis head to rival SIU Edwardsville Sept 26-27 for the Derek Dolenc Invitational at Gateway National Golf Links in Madison.
The final two tournaments of the fall take the Dawgs to Berkeley, Georgia, for the Georgia State Invitational on Oct. 3-4, before finishing the first part of their season Oct. 17-18 in Riverside, Iowa, for the Iowa Fall Classic.
When the spring season tees off, the Salukis will start in Houston for the Bayou City Collegiate Classic, hosted by Rice, on Feb. 20-21.
SIU then travels to Goodyear, Arizona, for the Loyola Intercollegiate, hosted by Loyola University Maryland, from Feb. 26-28. After a brief break, the Salukis are back in action at the Seminole Intercollegiate in Tallahassee, Florida, March 13-14.
From March 27-29, the Salukis will play in the Any Given Tuesday Intercollegiate, hosted by Golfweek, in Pawley's Island, South Carolina, at the True Blue Golf Club.
SIU will wrap up its regular season with two tournaments in Indiana as it'll play in the Indiana Intercollegiate April 8-9 and then Boilermaker Invitational April 15-16.
The MVC Championship will be April 23-25 at Oakwood Country Club in Coal Valley, Illinois.
The NCAA Regionals are scheduled for May 15-17 with the NCAA Championship slated for May 26-31 at Grayhawk Golf Club in Scottsdale, Arizona.
SIU Director of Golf Justin Fetcho said he's ready to hit the course this season as they've got plenty of good competition ahead.
"I am very excited with how the schedule came together for this upcoming season," he said. "We talk about getting the opportunity to travel the country to see the best teams and the best players possible and I believe this year is no different.  We get to travel to 10 different states and play in events hosted by five different Power 5 programs.  I look forward to the opportunity that each week will present with both successes and challenges so that we can continue to improve and get better as the year progresses to the postseason.  I believe this type of tournament schedule we have put together will be a great foundation to be prepared to play at a high level come postseason time."