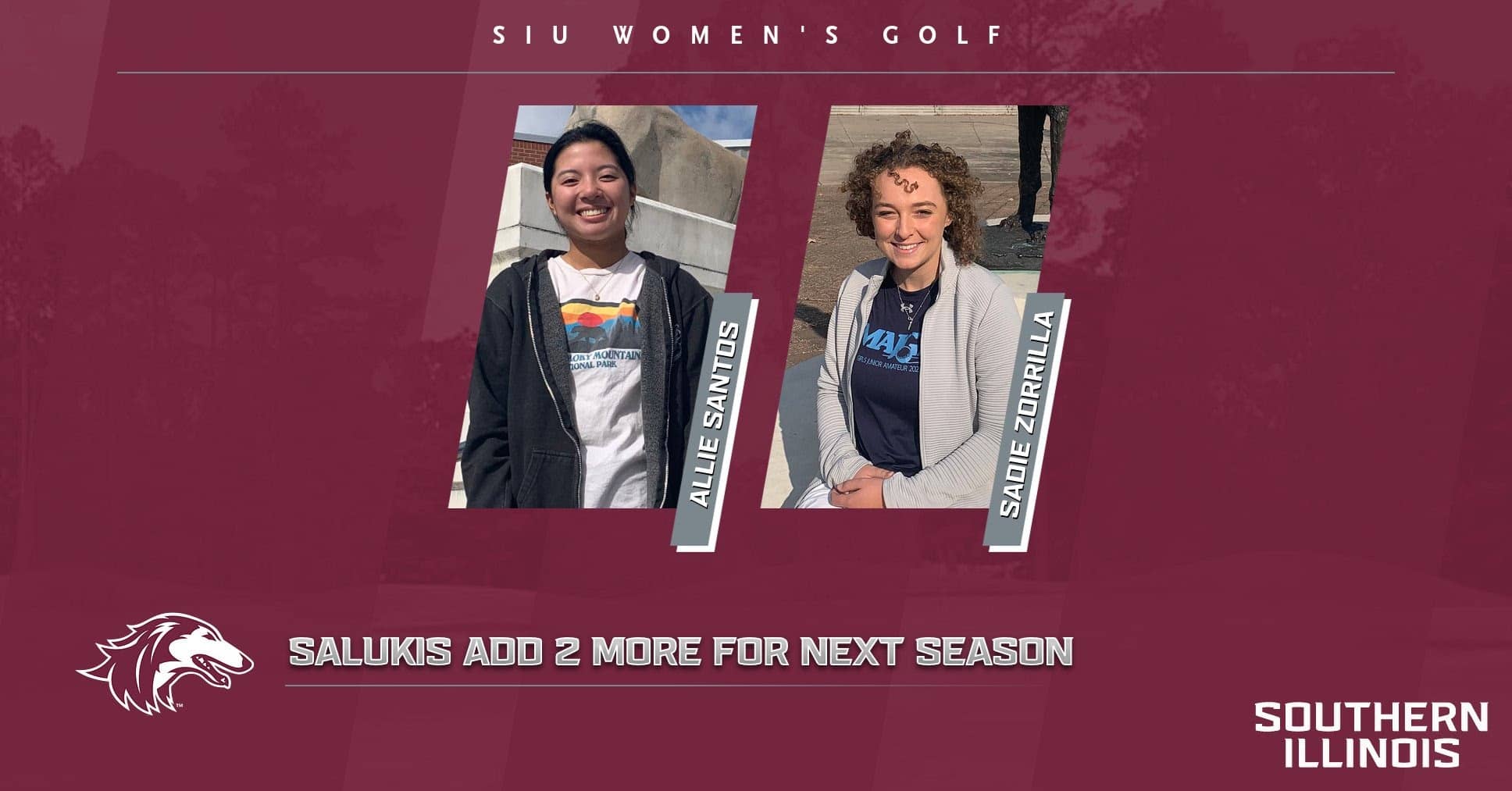 Two more future collegiate athletes chose to continue their careers at Southern Illinois on Monday as the women's golf program picked up two more in-state recruits.
Allie Santos (Hawthorn Woods, Ill./Stevenson HS) and Sadie Zorilla (Elk Grove Village, Ill./Conant HS) join Kayla Sayyalinh in this year's signing class to play for the Salukis next season.
"I'm excited for Allie Santos and Sadie Zorrilla to join our 2023-24 team," Head Coach Cindy Bodmer said.
Allie Santos | Hawthorn Woods, Illinois | Stevenson High School
"Allie has been a standout performer for powerhouse Stevenson HS receiving Big Gun Award twice in her high school career and  Player of the Year in  2020 by USA Today. She will bring much-needed experience to our team." – Bodmer on Santos
– 2020 Illinois Female Golfer of the Year by USA Today
– 2019 Team State Championship (Stevenson's 1st)
– T-5th at IHSA All-State (74-75)
– 2020 Big Gun Award (MVP)
– 2021 North Suburban Conference (+5)
– T-7th at 2021 IHSA All-State (75-73)
– Medalist at 2020 IHSA Carpentersville (Dundee-Crown) Sectional Tournament (71)
– Medalist at 2021 IHSA Belvidere H.S. Sectional Tournament (71)
– 2nd at 2022 High School Prep Tour Invitational (71)
Sadie Zorilla | Elk Grove Village, Illinois | Conant High School
"Sadie had a strong state tournament finishing 11th. I was impressed by her performance at state considering she tripled one hole and recovered to shoot even the rest of the round. She will be another great addition to our team giving us players who can break into our top five. I look forward to the competition among the team."- Bodmer on Zorilla
– 5th at Early Bird Invitational (76)
– 3rd at Vernon Hills Invitational (75)
– 3rd at Regional Tournament (80)
– 8th at Sectional Tournament (76)
– T-11th at State Tournament (73-75)