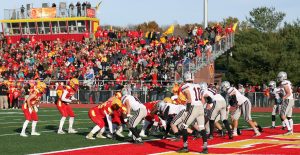 Photo Cred: Brinker Photography
Matt Varney and Gary Carter talk before the Red Devils meet the Fightin Irish of Bishop McNamara.  The Red Devils fell to Bishop Mac in last year's postseason.  The pair talk about looking for revenge, the challenge of a historic program like Bishop McNamara, Dezmond Clark, and more!
Murphysboro Looking for Revenge Against Bisho...
Local Sports Audio